Rather Simple, Isn't It?
Yes, I know this sounds like a simple, basic thing, but for those of us who don't have someone at hand to show us how it's done, understanding how to sharpen vine or willow charcoal can be quite confusing. When I first began considering the Bargue Drawing Course, I was surprised at how difficult it was to track down this information. In the end, I don't remember exactly where I got hold of the proper info, but it took me a long time. That said, I'm hoping this post will be of use to some poor, struggling artist somewhere.
Use the Right Materials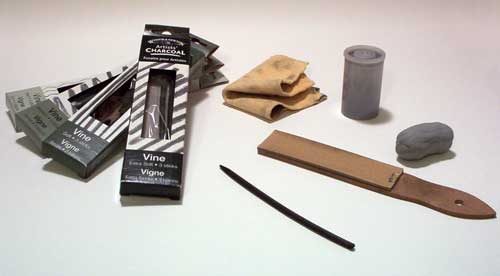 For the most optimal conditions with which to do a drawing in vine charcoal, it's important to have a few key supplies. First and foremost, you'll obviously need some vine charcoal, which can be found at any art supply or craft store. It comes in a range of densities, from hard to very soft, and is relatively inexpensive. It's best to purchase the range of densities and experiment a bit with it until you find the strengths and weaknesses of each one. The softer the charcoal, for example, the easier it is to erase. If you're like me and make lots of mistakes you may want to try this out first. The only downside to the softer vine sticks is that they dull rapidly and require a lot of sharpening, which can be annoying when you're in the middle of a drawing and prefer to keep moving.
For erasing, or lifting charcoal off the paper, a combination of a kneaded eraser and a piece of chamois leather works very well. You can find a chamois in the automotive section of most grocery and/or department stores (they are commonly used for washing vehicles). You can cut pieces off it as you have need – a piece approximately 6″ square will be sufficient.
For the actual sharpening of the charcoal sticks, you will need a sandpaper sharpening block which, again, can be found at most art supply or craft stores. Essentially, it's a small wooden block with strips of sandpaper stapled to it. As each sheet of sandpaper gets saturated with charcoal dust, you can just tear it off and throw it away. You won't need to do this too often, though, with vine charcoal, as it tends to fall off the sandpaper rather than saturate it. This leads me to another key supply – an empty film canister (or similar container) to store charcoal dust in. Why save the dust? It can be very useful for doing subtractive drawings, which involve laying down a rubbing of charcoal dust on paper, erasing out highlights, and darkening shadows. The best way I've found to collect the dust is to sharpen your charcoal sticks over a piece of vellum or tracing paper (you'll need a very smooth surface). When you're done with your drawing session, just roll up the paper a bit and funnel it into your container for later use. By the way, the going rate for a container of powdered charcoal is about $9.00, so you'll be saving a good deal of money if you follow this method. Smart…
The Process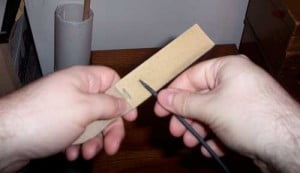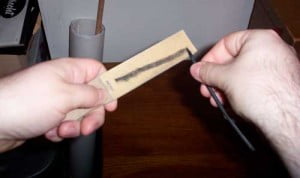 Ok – you've got your supplies and a healthy dose of enthusiasm. Now you're ready to start drawing! To sharpen a stick of vine charcoal, you'll want to hold your sandpaper sharpening block in your weak hand and the charcoal in your dominant hand. Place one of the ends of the charcoal stick on your sharpening block at a 45-degree (or greater) angle. Push the charcoal away from you along the sandpaper, rolling it slightly between your index finger and thumb to ensure a nice round, even point. The point should be a long taper and not a short stubby one. That's about it – easy!